So when I first started designing, as some of you who have been with me for awhile might remember, I started out just having donation kits on my blog. Well I've decided to bring them back ya'll and I am super excited about this! I know how hard times are around the country (and even the world) and this is kind of my way to help out so that you all can get kits at a price that works for you and everyone is happy!
The way this works is I will put up a kit for sale on my blog along with a paypal button that you can use to send in your donation for the kit. Once you have completed your transaction through paypal you will then be forwarded to a page where you will find the download links for the kit. That's it! No waiting for links, or queued orders etc. Simple enough right!? Ok so onward to the kit then.
The current donation kit is an adorable little kit that I just had so much fun working on. Welcome to Bunniville everyone: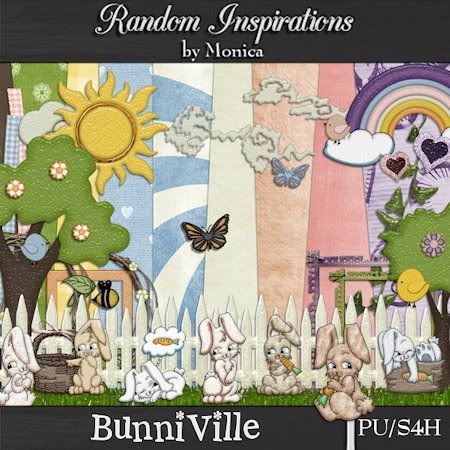 These adorable bunnies are perfect for tons of different layouts. The kit can be used with boy or girl layouts and are great for Easter pics, park layouts, outdoors pictures, spring layouts, all kinds of things! I've got so many layout's planned out in my head right now lol I just hope to find the time to make them! I thought it'd also make some cute birth announcements or invitations. This is a full size kit, 12x12 Papers and all items made at 300 DPI. Kit is for personal use and is Scrap 4 Hire friendly too!
Kit Includes:
9 Papers, 7 Adorable Bunnies5 Frames, 4 Flowers, 3 Leaves, 3 Clouds, 3 Buttons, 3 Birds, 2 Trees, 2 Ribbons, 2 Journal Mats, 2 Fuzzy Hearts, 2 Butterflies, 1 Sun, 1 Rainbow, 1 Mat, 1 Ivy Vine, 1 Grass Border, 1 Fence, 1 Carrot, 1 Bow (recolored), 1 Bee, 1 Basket,
In order to obtain this kit all you have to do is make a donation of ANY kind! No matter how big or how small! ANY amount is very much appreciated!
If you wish to donate, follow the link below to receive this kit in full! I would love to see anything that is made using this kit! Once you have successfully made a donation you should be re-directed to the download page for the kit. If this does not happen or if you have any other problems please e-mail me to let me know at honey414@swbell.net.
And I wouldn't let you go without enjoying a totally cute freebie to coordinate right!? Check out the adorable wordart I made for you to enjoy. Pick it up
here
. And check out the cool fuzzy font in there...hmmm....could a new alpha be in the works????
Hope ya like it! And here's a little inspiration from my CT.